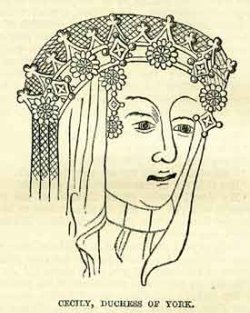 Cecily Neville, Duchess of York
Born: May 3, 1415
Staindrop, Durham, England
Died: May 31, 1495
Berkhamsted, Herfordshire, England (Age 80)

Duchess of York in History
Cecily Neville's fortunes did not appear to be particularly promising when her life began in 1415. She was the tenth child of Ralph Neville, Earl of Westmorland, and his wife Joan Beaufort, a granddaughter of Edward III (she was Westmorland's eighteenth child overall). In 1429, at the age of fourteen, she was married to Richard Duke of York, a man who, on his father's side, was descended from Edmund of Langley (Edward III's fourth surviving son) and, on his mother's side, from Lionel of Antwerp (Edward III's second surviving son). The latter claim gave him a better claim (if descent could pass through the female) than the current Lancastrian King Henry VI, who traced his claim through John of Gaunt (Edward III's third surviving son). It would be this claim that would cause the Yorkists (as the followers of the duke were known) to violently feud with the Lancastrians during the 1450s and beyond. The marriage between Cecily and York seems to have been a genuinely happy one, resulting in the birth of twelve children, six of whom survived to adulthood. In addition, York saw that his wife and children were well taken care of when he was away on various political tasks, awarding her several territories from his vast estates.

By 1455, however, war would break out between the houses of Lancaster, and York and the king and his followers were defeated at St Albans by York and his army, which now consisted of Cecily's brother and nephew, the Earls of Salisbury and Warwick. The next five years would be a turbulent time for both royal houses, and tensions boiled over in 1460 when York finally pressed his claim to the throne and was attainted for treason. Although the Yorkists would hand the Lancastrians several defeats throughout the year (capturing Henry VI and forcing him to name York as his heir), York himself would not survive the conflict and was killed at the Battle of Wakefield along with his son Edmund, Earl of Rutland. At the age of forty-five, Cecily Neville was a widow, and would remain so for the remainder of her long life. Despite this tragic turns of events for Cecily and the Yorkists, her eldest son Edward, now the Yorkist leader, would triumph after the Lancastrians were denied access to London and were, soon after, chased out of England. With the Lancastrians gone, Edward was free to have himself crowned King Edward IV. Cecily now lived comfortably as the mother to England's king and would do so, with brief interruptions for the next twenty-five years or so. She was unhappy with the king's marriage to Elizabeth Woodville, a low-level noblewoman, in 1464 and, was forced to flee with the rest of the Yorkists in 1470-71 during the brief readeption of Henry VI. In addition, she had to deal with the execution of her son George, Duke of Clarence, in 1478 for the crime of plotting against his brother's throne.

Things did not truly become dangerous again though until 1483, when Edward IV suddenly died and was succeeded by his teenage son as Edward V. No sooner had the young king started his reign (he was never even officially crowned) then was his throne usurped by Cecily's youngest son Richard, Duke of Gloucester, who had himself crowned as King Richard III and subsequently executed several of his Woodville in-laws and, as many contemporaries and historians will agree, his two nephews (Edward V and his younger brother the Duke of York). Richard III's reign would last for only two years, until 1485, when he was defeated and killed at Bosworth, fighting against the army of the Earl of Richmond (the leading Lancastrian claimant), who subsequently had himself crowned as Henry VII. Many of the Yorkist supporters were punished (although many others were pardoned). To unite the houses of Lancaster of York and cement his claim to the throne, Henry VII married Elizabeth, daughter to Edward IV and grand-daughter to Cecily. For this reason, Cecily was able to live her final years in peace during the new king's reign and finally passed away in 1495, shortly after her eightieth birthday. In the end, one cannot help but look at Cecily Neville, Duchess of York, with admiration. She had witnessed a countless number of battles and revolutions and survived not only her husband, but eleven of her thirteen children as well. Although most people will not recognize the name Cecily Neville when they hear it, it must be remembered that she was the mother of two kings and a true survivor in a time when it was far from easy to survive.
Duchess of York in Shakespeare
Appears in: Richard III
The Duchess appears in Richard III as an elderly woman who is worried about the way things are going for the house of York. Within the play, she is forced to deal with the death of three of her sons and two of her grandsons all because of the actions of her youngest son, Richard III. In the end, she is certainly not abject to the marriage of her granddaughter Elizabeth to the future Henry VII.
References
Harper-Bill, Christopher. 'Cecily , duchess of York (1415–1495)', Oxford Dictionary of National Biography, Oxford University Press, 2004 [http://www.oxforddnb.com/view/article/50231, accessed 25 Jan 2010]