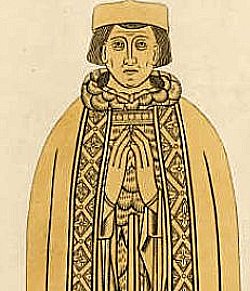 Christopher Urswick
Born: c. 1448
Died: 1522

Hackney, London, England (Age c. 74)

Urswick in History
There is very little known of the early activities of Christopher Urswick, but it is unquestionably true that came to maturity during a turbulent time in England's history, as any one born in his time did, because of the War of the Roses between the rival houses of Lancaster and York. Although not clear at first, it became undeniably apparent that he was a staunch supporter of the house of Lancaster, and he may have had to keep a fairly low profile while the Yorkists were in power. Urswick received a solid education at Cambridge and was well-versed in the law. Additionally, he seems to have received patronage from the powerful Stanley family of Furness, who would prove to be valuable allies to the crown after Henry VII's accession. It is most likely through the Stanleys that Urswick came to know Margaret Beaufort and her son Henry Tudor, the man who would go on to become Henry VII. Urswick warned Henry that King Richard III may make a move to seize him while in exile in Brittany and was with the future king when he landed in England to depose Richard.

A priest since 1472, Urswick flourished under the new King Henry VII and was awarded control of a number of cathedrals, in addition to many other important positions in the king's government. Additionally, he was given the responsibility of journeying to France, Scotland and Spain, among other countries, to serve as an ambassador for peace. He arranged the marriage between Prince Arthur and Katherine of Aragon and was given control of the order of the garter as well. Urswick began to slowly retire from life at court by the early 1500s and dedicated most of his time to independent projects, such as the rebuilding of St. Augustine's, where he would ultimately die. Amongst Urswick's friends were the well-known humanists Thomas More and Erasmus, and he supplied valuable information on Richard III to More and Polydore Virgil, both of whom wrote about the former king. All in all, Urswick remained a loyal servant to both Henry VII and his son and successor, Henry VIII, until the day he died. This day finally arrived in 1522 when Urswick was a man of over seventy. Although Christopher Urswick is relatively unknown in the renaissance period in comparison to men such as Thomas More, he certainly deserves credit for being a major player in the Tudor revolution in England and for ushering in a new way of life for her people.

Urswick in Shakespeare
Appears in: Richard III
Christopher Urswick makes a very brief appearance in Richard III where he is seen acting as a sort of envoy between the Earl of Derby and the exiled Earl of Richmond, the man who will soon become King Henry VII. It is highly likely that he acted in such a fashion historically.

References
Trapp, J. B. 'Urswick, Christopher (1448?–1522)', Oxford Dictionary of National Biography, Oxford University Press, Sept 2004; online edn, Jan 2008 [http://www.oxforddnb.com/view/article/28024, accessed 25 March 2010]