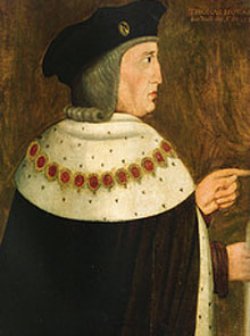 Thomas Howard, 2nd Duke of Norfolk

Born: 1443
Stoke, Nottinghamshire, England

Died: May 21, 1524

Framlingham, Suffolk, England (Age c. 81)

Surrey/Norfolk in History
Thomas Howard was the eldest son and heir of John Howard, who was the son of Margaret Mowbray, a daughter of Thomas Mowbray, Duke of Norfolk. Because of this family connection, the Howards had a fairly strong claim to the Dukedom of Norfolk should there be no other available heirs. Little is known of Thomas's early life except that he was well-educated and brought up in the style of his father: as a chivalrous gentleman. He first appeared on the political scene during the first part of the reign of Edward IV and became involved on the Yorkist side during the Wars of the Roses. During the brief Lancastrian restoration in 1470-71, when Edward IV was deposed by the Earl of Warwick and fled to Burgundy, Howard was forced to take sanctuary. When Edward IV returned to England to reclaim the throne (which he ultimately succeeded in doing), Howard fought for the Yorkists at the Battle of Barnet (against Warwick's forces) and was mortally wounded. He soon recovered though and continued to loyally serve Edward IV for the remainder of his reign.

In 1478, however, the Howards received a huge blow from Edward IV when the king's younger son, Richard, Duke of York, was married to Anne Mowbray, heiress to the Mowbray titles and lands. This of course eliminated any claim that the Howards would have had to the lands and is the most likely explanation for the future disreputable actions they would soon engage in. When Edward IV died in 1483, he was succeeded by his thirteen-year-old son as Edward V. The late king's brother Richard, Duke of Gloucester, however, was secretly planning to usurp his nephew and put himself on the throne. After executing several of the young king's maternal relatives and bastardizing and imprisoning both Edward V and his brother York, Gloucester had himself crowned as Richard III; the Howards were two of his biggest supporters.

Shortly after Richard's accession, the "princes of the tower" disappeared, and the Howards are thought by many historians to have been involved. Certainly, it was no coincidence that Thomas Howard was created Earl of Surrey and his father Duke of Norfolk (also inheriting the vast Mowbray estates) shortly after the princes "disappeared." Throughout Richard III's brief two year reign, the Howards remained loyal, taking part in the subduing of the Duke of Buckingham (another key figure in Richard's accession). When the Earl of Richmond (an obscure Lancastrian claimant) invaded England to depose the king, the Howards fought for Richard at the Battle of Bosworth, where the elder Howard was killed (along with Richard III himself), and Surrey was wounded and captured. Richmond was crowned as Henry VII, and Surrey was stripped of his lands and titles and imprisoned.

He would remain a prisoner for three years until, in 1487, when the Earl of Lincoln (who Richard III had supposedly named as his heir) offered to help him escape so that he may join his rebellion. Surrey outright refused the offer, and it is this action that seems to have gained him favor in the eyes of Henry VII, who released Surrey and restored him to his title by 1489 (though most of his lands were not returned until much later). Throughout the remainder of Henry VII's reign, Surrey built up his reputation as a soldier, putting down Scottish revolts caused by a Yorkist pretender named Perkin Warbeck, who claimed to be none other than the Duke of York, Edward IV's younger son, and he was gradually restored to all of his father's inheritance. By the time Henry VII died in 1509, Surrey was an established elder statesman, and when the late king's son succeeded him as Henry VIII, he felt it was his time to step up to the role of top adviser. Unfortunately, he lost out on the position to one Thomas Wolsey (the son of an Ipswich butcher who had worked his way up the political ladder) and was forced to submit. This did not, however, effect Surrey's abilities as a soldier.

Despite the fact that he was now a man of about seventy, Surrey, in 1513, took part in a major battle against King James IV of Scotland (who was taking advantage of the fact that Henry VIII was away campaigning in France) at Flodden Field. The English, under Surrey's command, overwhelmingly defeated the Scots, and James IV himself was slain in the action. When King Henry returned from France, he rewarded Surrey with the Dukedom of Norfolk, a title that had not been in Howard possession since his father's death at Bosworth. Despite his age, the new Duke remained active in military and political affairs. He helped subdue the 'May Day' riots in London in 1517 and passed the death sentence on the Duke of Buckingham in 1521 (which he was supposedly very reluctant to do). By this point though, Norfolk was gradually retiring. He died in 1524 as a man of roughly eighty-one. Many historians will criticize Norfolk for his avid support of Richard III and his possible involvement in the murder of the princes in the tower, but it can not be argued that he became one of the few Yorkist supporters to escape the consequences of the Wars of the Roses (despite his imprisonment) and resurface stronger than before. In the end, one must look at Norfolk as a brave military leader and a loyal servant to the crown.
Surrey/Norfolk in Shakespeare
Appears in: Richard III; Henry VIII
In Richard III, the Earl of Surrey appears briefly as a supporter of the evil king and fights for him at Bosworth, where his father is killed. Surrey appears again in Henry VIII under his new title of Duke of Norfolk. Norfolk is one of several lords to oppose Cardinal Wolsey and to rejoice at his downfall. Historically, Norfolk had been dead for six years by the time Wolsey met his end. In addition, while Norfolk is alive at the play's end, Queen Catherine is dead and Princess Elizabeth has been born. Historically, Elizabeth was born in 1533, while Katherine died in 1536, both well after Norfolk's death. Norfolk's son, who now has his old title of Earl of Surrey, is also present in the play. It appears that Shakespeare utilizes two different composite figures within the play for purposes of convenience (as opposed to other instances, where he does so to further the drama of a play). In other words, Norfolk was alive for the earlier events of the play, but dead for the latter. Therefore, we can assume that the Duke of Norfolk character is a composite between Thomas Howard and his son, another Thomas, who would go on to succeed him as duke. The character of the Earl of Surrey within the play is a composite between the younger Thomas and his own son, Henry Howard, the surly poet who would go on to be the last victim executed during the reign of Henry VIII and who became Earl of Surrey upon his grandfather's death and his father's promotion to Duke of Norfolk.

References
Head, David M. 'Howard, Thomas, second duke of Norfolk (1443–1524)', Oxford Dictionary of National Biography, Oxford University Press, Sept 2004; online edn, Jan 2008 [http://www.oxforddnb.com/view/article/13939, accessed 4 Jan 2010]