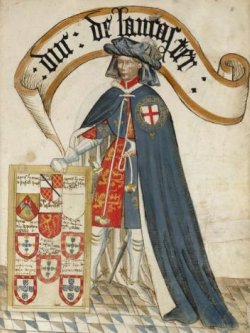 Henry of Grosmont, 1st Duke of Lancaster
Born: c. 1310
Grosmont, Monmouthshire, Wales
Died: March 23, 1361
Leicester, Leicestershire, England (Age c. 51)

Derby in History
When Henry of Grosmont was just reaching his early adolescence, things were not going well for the house of Lancaster. Henry's uncle Thomas, 2nd Earl of Lancaster, was charged with treason and executed for rebelling against King Edward II (1322). Because of the attainder passed against him, Thomas's younger brother and heir, Henry, was unable to inherit his titles and vast landholdings. However, once Edward II was deposed and murdered by his own wife, Isabella, and her lover, Roger Mortimer, Henry was returned to his inheritance and created Earl of Lancaster. Though Isabella and Mortimer were regents of the kingdom, Edward II's son, Edward III, was the true king and ultimately shook off the control of his regents (1330), having Mortimer executed. Under Edward III, the younger Henry became a leading figure. Very little is known about Henry's early activities. He served in the Scottish expeditions of the mid-1330s; was created Earl of Derby upon the commencement of the Hundred Years War with France (1337); served in the naval battle at Sluys (1340); and took part in several smaller battles in France in subsequent years. Upon his father's death (September 1345), Henry inherited the title of Earl of Lancaster. The following month, he achieved what many historians dub as his most significant victory at Auberoche, but did not participate in the decisive English victory at Crecy.
Lancaster was then assigned the post of lieutenant of Aquitaine, the duties of which he loyally performed at this point and, once again, several years later. When Edward III founded the order of the garter (1348), Lancaster became one of its first inductees and was truly honored when he was upgraded to Duke of Lancaster (1351), a clear demonstration that he held high favor in the eyes of a king who was not known for his benevolence toward the nobility. The remaining ten years of the duke's life were spent either engaging in battle with the French or attempting to negotiate a truce with them. He was not present at the famous English victory at Poitiers (1356) but did take part in the siege of Rennes later that year. By the beginning of the 1360s, it was evident that both the English and French were eager for peace, and Lancaster was among those who advocated for it. However, he suddenly fell ill (1361), most likely of plague, and passed away. Since he had no male issue, the dukedom of Lancaster passed to his son-in-law, John of Gaunt (third surviving son of Edward III and the father of the future King Henry IV), who had married his daughter Blanche.
Derby in Shakespeare
Appears in: Edward III
The Earl of Derby appears sporadically throughout Edward III and is used as both a soldier and diplomat. He participates in the Battle of Crecy (which he did not in reality) and the siege of Calais (which is more accurate). It is not known why Shakespeare chooses to label him as the Earl of Derby throughout the play considering by the time of Crecy, he was Earl of Lancaster, and by the time of Poitiers, which ends the play, he was Duke of Lancaster.
References
Ormrod, W. M. 'Henry of Lancaster , first duke of Lancaster (c.1310–1361)', Oxford Dictionary of National Biography, Oxford University Press, Sept 2004; online edn, Jan 2008 [http://www.oxforddnb.com/view/article/12960, accessed 19 May 2010]