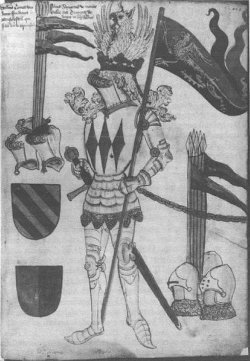 William Montagu, 1st Earl of Salisbury
Born: 1301
Cassington, Oxfordshire, England
Died: January 30, 1344
Windsor, Berkshire, England (Age c. 43)

Salisbury in History
The Montague family had already been fairly established within England's nobility by the time William Montague came of age, but it was he who rose them even higher in royal favor. With his father dying in 1319, when William was still underage, Montague became a ward of King Edward II and received his first experiences in the military field during the early 1320s in Scotland. Edward II was deposed and, supposedly, murdered in 1327 by Roger Mortimer and his lover, Edward II's own wife, Isabella. The late king's teenage son, Edward III, was placed on the throne, and Montague almost immediately created a bond with the young king. During the three years of Edward III's minority reign, Montague continued to build up his reputation as both a soldier and a diplomat by serving in the wars in Scotland and acting as an envoy in France and to the pope. In 1330, it is believed to have been Montague that most urged the king to rid himself of his regent, Mortimer, and rule on his own. Therefore, Mortimer was suddenly arrested and executed for his offenses (which mainly consisted of him feeling that he was the rightful ruler in England). With Edward III now safely seated on England's throne in his own right, Montague was free to become one of the leading figures in the king's government and one of Edward's closest friends. Montague continued to provide his military services in Scotland and was well rewarded, being given a number of lands, offices and, most significantly, being created Earl of Salisbury (1337).
After being upgraded within the nobility, Salisbury was asked to turn his attentions to the wars in France (the beginning of the Hundred Years War) and achieved moderate success. When Edward III returned to England, Salisbury was left in charge of the royal family and, at one point, was taken prisoner by Philip VI of France. The earl was ultimately ransomed and returned to England, continuing to serve as an active member of the council until his death in January 1344. Certain chronicles state that Salisbury simply fell ill, while others give him a more exciting death from injuries in a jousting tournament. It is usually the latter that is more widely accepted.
Salisbury in Shakespeare
Appears in: Edward III
The Earl of Salisbury first appears within Edward III when he is seen being thanked by Lord Mountford (the historical John de Montfort, Duke of Brittany, an English ally who died in 1345), a Frenchman, for eliminating Mountford's rival lord. Montford than asks the earl if he will deliver a ceremonial coronet to Edward III, who is at Calais, to show his loyalty. The earl receives a promise of safe passage from another Frenchman, Villiers, who claims that Charles, Duke of Normandy and the French king's eldest son, will honor. Salisbury in encountered by the French royal party on his way to Calais, but is ultimately allowed to pass through, under Charles's orders, despite objections from King John II. In the play's final scene, Salisbury arrives in Calais to give Edward the coronet and tells of a grim forecast for the king's son, the Black Prince, which makes everyone present believe he might be dead (which he is not). Historically, Salisbury had died in 1344 and did not live to see the Battles of Crecy (1346) and Poitiers (1356), both of which he was alive and well for within the play. For this reason, it is believed that Shakespeare created a composite figure between Salisbury and Sir Walter Mauny, a contemporary soldier and minor aristocrat who did participate in both battles.
References
Ormrod, W. M. 'Montagu, William , first earl of Salisbury (1301–1344)', Oxford Dictionary of National Biography, Oxford University Press, 2004 [http://www.oxforddnb.com/view/article/19001, accessed 7 May 2010]