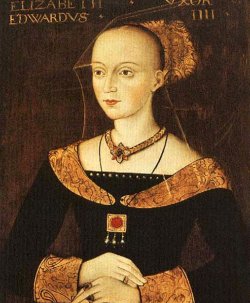 Elizabeth Woodville, Queen of England
Born: c. 1437
Grafton Regis, Northamptonshire, England
Died: June 8, 1492
Southwark, London, England (Age c. 55)

Elizabeth in History
The Woodville family represents a prime example of a family advancing its fortunes through marriage. Richard Woodville, Elizabeth's father, had married Jacquetta, a member of the prestigious House of Luxembourg and the widow of John, Duke of Bedford, a younger brother of King Henry V. Although several marriages were proposed for Elizabeth, she ended up marrying one Sir John Grey, a moderately wealthy knight, in 1456. Unfortunately, the marriage came at a point where the two primary royal houses of England, those of Lancaster (supporters of King Henry VI) and York (those loyal to the Duke of York) were at odds, and Sir Grey was killed at the second Battle of St Albans, fighting for the Lancastrians, in 1461. Although Grey and Elizabeth had two children together, Thomas and Richard, their inheritance was awarded to Grey's mother, who had already remarried after her husband's death in 1457. Elizabeth, who now had no way of providing for her family, was forced to directly ask Edward IV, who had become king after his victory at Towton, forcing the Lancastrians to flee England, for help.

The events that happened next are not altogether clear, but, by 1464, Edward and Elizabeth were married. Many people within the royal family (including the king's mother and brothers) were angry with the fact that the king would choose a woman of relatively low birth for his wife, especially when several other marriage proposals, including one to Bonne of Savoy, sister-in-law to the French King Louis XI (a marriage that would have brought peace between the two nations), were more advantageous. Contemporaries and historians alike have not been able to make sense of the marriage, and many will say that the king made Elizabeth his wife merely because she would not consider being his mistress. This seems plausible considering Edward's lust for women, but one cannot help but think that he may not have been completely satisfied with the marriage after he had lain with his new wife, and he most certainly had a number of mistresses, the most famous of which was Jane Shore.

Despite the king's infidelities, the marriage did prove to be a fruitful one and produced ten children, including two sons, Edward and Richard, to secure the succession. Another issue that angered those at Edward IV's court was that of the new queen's many relatives who were now hungry to take advantage of their new position as in-laws to the king. Indeed, the king rewarded many of the Woodvilles: Elizabeth's father was created an earl; her brother Anthony, Earl Rivers, was made a Knight of the Garter; and her two sons from Lord Grey and many of her siblings were married off to wealthy heiresses. This handing out of favors from the king seems to have been the final step in the alienation process of the Earl of Warwick, a powerful northern lord who had been instrumental in putting Edward on the throne. Warwick, in turn, joined forces with the Lancastrians, deposed the king and forced him to flee England and reinstated Henry VI. Elizabeth fled to sanctuary in Westminster where she gave birth to her son Edward. Thankfully, the Lancastrian readeption would not last long. Edward IV returned and finished off the Lancastrians with two decisive victories at Barnet and Tewksbury to secure his throne for good.
The second portion of Edward IV's reign would not be nearly as tenuous as the first. One event involving Elizabeth that is worth noting during this period is the downfall and execution of the king's brother George, Duke of Clarence. Clarence had already turned against the king once when he joined Warwick's rebellion, which had resulted in the death of several Woodvilles, including the queen's father and one of her brothers. When Clarence once again stirred up trouble, the queen and her relatives took the opportunity to bring him down. Clarence was arrested, convicted of treason and, ultimately, executed. It is widely believed that the Woodvilles were the party responsible most directly in the execution. In this, they had garnered the hatred of Richard, Duke of Gloucester, the king's youngest brother. Although the Woodvilles had been allies of Gloucester's in the past against Clarence (helping him to obtain the Neville inheritance), he seems to have been genuinely distressed after his execution.

The feud between Gloucester and the Woodvilles was not a large issue while Edward IV lived, but when the king suddenly died in 1483, a power struggle erupted on who should take control of the new under-aged King Edward V. Elizabeth urged that her son should be crowned as soon as possible to avoid a minority council that would be headed by Gloucester, who likely would have served in the role of protector - or quite possibly regent. As can be imagined, this would have severely hindered the power and influence of the Woodville family. Gloucester, on the other hand, likely had little interest in a royal council run by his brother's haughty in-laws. The queen's brother, Earl Rivers, was assigned to bring the king to London for the ceremony, but Gloucester intercepted the procession and confiscated his young nephew. In turn, Rivers and Elizabeth's son Richard were arrested and imprisoned. The remaining Woodvilles fled England, and Elizabeth took her younger son (the Duke of York) and her daughters into sanctuary.

Despite claims Gloucester only meant the best for the king, it was clear that he had ideas of usurping the throne for himself. He eventually excavated young York from sanctuary (supposedly to witness his brother's coronation ceremony) and immediately started spreading rumors that the two boys were illegitimate due to their father's being betrothed to another woman at the time of his marriage to Elizabeth. After throwing his two nephews in the tower (where they would never be seen again) and executing Earl Rivers and Lord Grey, Gloucester had himself crowned king as Richard III. It became increasingly obvious that the princes had been disposed of somehow, and Elizabeth, who was still in sanctuary, considered supporting the rebellion of the Duke of Buckingham in favor of placing Henry Tudor (a Lancastrian claimant) on the throne. Unfortunately, Buckingham was captured and executed and Elizabeth was forced to submit to the king.

Although it seems she lived comfortably for the remainder of Richard III's short reign, she was looked at as a disgraced woman, even if she did show signs of cooperating with the new king. Rumors started to spread that the king intended to marry Elizabeth's eldest daughter (of the same name) after his wife Anne died in 1485, but this never happened, and Tudor invaded England later that year and defeated and killed the king, crowning himself as King Henry VII. In turn, the new king married princess Elizabeth in order to unite the houses of Lancaster and York and add strength to his claim to the throne. Elizabeth seems to have been content with this and lived quietly and frugally until her death in 1492. In the end, she could call herself a queen consort and the mother of both a king and a queen consort, a resume that is to be admired from a mere "common woman."
Elizabeth in Shakespeare
Appears in: Henry VI, Part 3; Richard III
Elizabeth first appears in 3 Henry VI when she pleads to Edward IV for help after her husband's death in battle. The king is immediately infatuated with her and wants to make her his mistress. After she refuses, Edward offers to make her his queen, which she ultimately agrees to. The move, however, angers the king's brothers and the Earl of Warwick, who had already chosen a bride for him. This results in Warwick and Clarence joining the Lancastrians in rebellion against Edward. By the play's end, the Yorkists are victorious, and Elizabeth gives birth to the future Edward V. In Richard III, Elizabeth is portrayed as a broken woman after the death of Edward IV. After the king's death, Gloucester (the future Richard III) has both her brother and three of her sons executed (or murdered) and claims that her marriage to the king was never legitimate because of his betrothal to another woman. In the end, Elizabeth agrees to throw her support behind the Earl of Richmond (the future Henry VII) and that, as a peace offering, her eldest daughter will be married to the earl when he becomes king. Richmond is successful and is crowned King of England at the play's finish, with the younger Elizabeth as his queen, uniting the houses of Lancaster and York.
References
Hicks, Michael. 'Elizabeth (c.1437–1492)', Oxford Dictionary of National Biography, Oxford University Press, Sept 2004; online edn, May 2008 [http://www.oxforddnb.com/view/article/8634, accessed 25 Jan 2010]