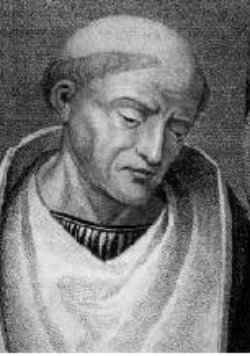 Henry Beaufort, Cardinal of Winchester
Born: c. 1375
Anjou, France
Died: April 11, 1447
Winchester, Hampshire, England (Age c. 72)

Cardinal Beaufort in History
Henry Beaufort was the second of the illegitimate Beaufort children (named after Beaufort Castle, their birthplace in France) born to John of Gaunt (third surviving son of Edward III) and his long-time mistress Catherine Swynford. From very early in his life it seems as if he was meant for a career in the church and he held a number of clerical positions during the reign of Richard II. In 1396, John of Gaunt married Catherine, legitimizing Henry and his three siblings but barring them from the royal succession as a condition. Gaunt died three years later and his possessions, which were supposed to go to Henry Bolingbroke, John's eldest son and heir from his first marriage, were seized by the crown to fund Richard's Irish expedition. The new bishop does not seem to have been upset with these developments and even accompanied the king to Ireland. While the king and his party were away, Bolingbroke (who had been in exile in Paris since the previous year) invaded England with a small army that gradually grew, claiming he only wanted to reclaim his inheritance. Soon enough though, Bolingbroke had deposed Richard and crowned himself as King Henry IV. With his half-brother now on the throne, Bishop Beaufort's involvement in government became more frequent and he was given a number of important responsibilities by the new king, including chancellor of England. The first ten years of Henry IV's reign were filled with rebellion caused by the fact that he had deposed and murdered the rightful king. There was an ongoing Welsh rebellion under Owen Glendower, as well as the rebellion of the Percies, the family that had been instrumental in putting Henry on the throne. Bishop Beaufort seems to have drawn his attention to the defense of Calais, an important coastal city in France that was under English control. During the final three years of Henry IV's reign, the king was frequently debilitated by sickness and control of much of the government was given to his eldest son and heir Prince Hal. A power struggle developed between father and son that culminated in the prince's dismissal from the royal council. Bishop Beaufort, who was a supporter of Prince Hal and had, most likely, attempted to influence the future king towards his father's abdication, also lost his place of influence and lived quietly on his lands for the remainder of Henry IV's reign. In 1413, Henry IV died and Prince Hal ascended the throne as Henry V. During Henry V's reign, Beaufort remained influential and took part in negotiations in France on the king's behalf after the renewal of the Hundred Years War. In 1417, he was upgraded to Cardinal by the Pope. As Henry V's reign progressed, it appears that the relationship between the king and the new cardinal waned and Henry felt that his uncle may have been plotting against him with the pope in some way. Regardless of these accusations, the king did not seem to have a problem borrowing large sums of money from the cardinal in order to pay for the continuing war in France. In 1422, Henry V and was succeeded by his nine month old son Henry VI. It was during the reign of the infant king that Cardinal Beaufort would be at the height of his influence.
During Henry VI's minority reign, Beaufort was forced to compete with his two half-nephews (and brothers to Henry V) John, Duke of Bedford, and Humphrey, Duke of Gloucester. Bedford was made Regent of France, which Henry V had conquered large portions of, and Gloucester was made "protector" of the realm. Beaufort was a member of the minority council and was an advocate for limiting Gloucester's power. The crown still borrowed heavily from Beaufort and the English victory at Vernueil in 1424 was won as a result of his funding. During this time, Beaufort and Gloucester became bitter enemies and Bedford was forced to return from France on several occasions to cool the tensions between the two men. Gloucester was recognized as protector and Beaufort's influence waned temporarily. In France, the dauphin Charles and his followers in France caused trouble in the English territories and Beaufort pushed for Henry VI's coronation at Paris in 1430. The following year, the English captured Joan of Arc, a teenage girl who was fighting valiantly for France. Beaufort presided at her trial in 1431 before she was burnt at the stake. After Joan's burning, however, the English fortunes in France steadily declined. Gloucester had been upsetting the delicate alliance between the English and the Duke of Burgundy which was essential for English success in France. Beaufort also quarreled with Bedford, who he believed should not be regent of France anymore since Henry VI had already been crowned. In 1435, the English suffered even more misfortune when Bedford passed away and the Duke of Burgundy decided to switch his allegiance to the new King Charles VII. Beaufort was eager to reach a peace agreement in France but was once again opposed by his nephew Gloucester, who was now beginning to slander Beaufort with great malice, accusing him of usury, corruption and a slew of other crimes. Although Beaufort's political career was approaching its end by the early 1440s, he achieved a major victory (although he most likely played no part in the proceedings) against his enemy when Gloucester's wife Elaenor Cobham was accused of witchcraft and Gloucester's influence was virtually at an end at court. Beaufort agreed to fund an English expedition to France in 1442 if his nephew, the Duke of Somerset, were put in charge. The expedition was disastrous and the English lost a majority of what was left of their French possessions. After his nephew's folly, Beaufort went into retirement. He lived long enough to see Gloucester's downfall. In 1447, Gloucester was arrested for treason under orders from the Duke of Suffolk, the king's new favorite, and died shortly after his arrest. Two months later, Cardinal Beaufort followed his nemesis to the grave. He was a man of around seventy-two. Many historians, both contemporary to Beaufort and of modern times, judge the cardinal very harshly and accuse him of being both greedy and deceitful, particularly for a man of the cloth. However, one cannot argue that Henry Beaufort remained faithful to the throne until the day he died. As the result of an illicit affair, he had to try harder to gain success than most others would and passed the test with flying colors. Even when he was disliked, men were forced to come to him for loans because of the immense wealth he had accumulated. He is undoubtedly one of the most successful English men of the early fifteenth century.
Cardinal Beaufort in Shakespeare
Appears in: Henry VI, Part 1; Henry VI, Part 2
Cardinal Beaufort is portrayed in a very negative light with Shakepeare's plays. Although he is a loyal subject to King Henry, he constantly quarrels with his nephew Gloucester, who is portrayed in a much more positive light, and widely hated. It is revealed that he bribed the pope into making him a cardinal and that his main objective is to be the king's primary adviser. In 2 Henry VI, the cardinal joins forces with Queen Margaret, Suffolk, and York to murder Gloucester. After the deed is done, Beaufort is so guilt-ridden that he is at death's door shortly after. On his deathbed, he is seen rambling and begging God to forgive him for all his many sins. King Henry asks his great-uncle to give him a sign if he expects to go to heaven. Beaufort died without showing any sign, implying that he has not led a reputable life.
References
Harriss, G. L. 'Beaufort, Henry (1375?–1447)', Oxford Dictionary of National Biography, Oxford University Press, Sept 2004; online edn, Jan 2008 [http://www.oxforddnb.com/view/article/1859, accessed 29 Nov 2009]