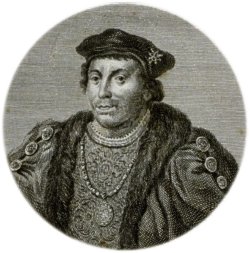 Henry Stafford, 2nd Duke of Buckingham
Born: September 4, 1455
Died: November 2, 1483
Salisbury, Wiltshire, England (Age 28)

Buckingham in History
Henry Stafford inherited a large amount of power at a very young age when he was created Duke of Buckingham at the age of four after the deaths of his father (1458) and grandfather (1460), both staunch supporters of the house of Lancaster. The new duke did indeed have Lancastrian blood in his veins. His mother, Margaret Beaufort, was a descendant of John of Gaunt (third surviving son of Edward III) from his long-time mistress and eventual third wife Katherine Swynford. Additionally, Buckingham had royal blood on his father's side as a descendant of Thomas of Woodstock, fifth and final surviving son of Edward III. Despite all his royal blood, Buckingham was married off to Katherine Woodville, a sister to Elizabeth Woodville, who had been secretly married to King Edward IV (a member of the house of York, enemies of the Lancastrians) in 1464. This match may have been disappointing to Buckingham both because he had close Lancastrian ties and because his new wife was a simple commoner who was elevated because her sister had married the king. However, Buckingham was not in a position to protest considering he was not yet ten years old at the time of the marriage.

The duke grew up in the queen's household (with the exception of the brief Lancastrian readeption of 1470-71, when he lived with his grandmother) and seemed to become more closely associated with the house of York. Once Edward IV returned from his temporary exile to retake his throne, Buckingham was present with him after the significant Yorkist victories at Barnet and Tewksbury and was given a number of posts for his loyalty. There seems to have been a falling out between Buckingham and the king during the French expedition of 1475. It is by no means clear what occurred to put a rift in the relationship between the two men, but Buckingham was mysteriously sent home and maintained a low profile for the remaining eight years of Edward IV's reign. Odds are highly likely that this falling out is the cause for Buckingham's support of Richard, Duke of Gloucester (Edward IV's younger brother), after Edward IV's death and the accession of his young son, Edward V, in 1483.

Buckingham was with Gloucester when he intercepted the new king's party, that was heading south for the coronation ceremony, and arrested Edward V's maternal uncle, Earl Rivers, and half-brother, Lord Grey (the two men would ultimately be executed). It was also Buckingham that suggested that Edward V and his younger brother Richard, Duke of York, should be placed in the tower for safe-keeping and was indeed partially responsible for extracting the latter of the two boys out of sanctuary. To this day, Buckingham is considered to be one of the top suspects for the subsequent disappearance (and most likely murder) of the princes in the tower. It seems more likely, though, that Gloucester himself had them killed, and it is certainly no coincidence that he bastardized his nephews and then had himself crowned as King Richard III. Buckingham, who was considered to be the new king's most loyal supporter by this point, was unsurprisingly showered with lands, positions and other various gifts for his services. It is for this reason that it is hard to believe that he would soon be in rebellion against that very same king.

Buckingham was persuaded, most likely with the help of Bishop John Morton of Ely (who was a prisoner of the Duke's at the time), to join a Lancastrian rebellion against Richard III that involved Henry Tudor, the lone male representative of the house of Lancaster (besides Buckingham himself) and a man the Lancastrians hoped would one day sit on England's throne. The reasons are completely unknown as to why Buckingham decided to go along with the rebellion. Perhaps he was upset by the fact that Richard III had recently put a limit on his royal favor (by seemingly ignoring his claims to the earldom of Hereford) , in order to prevent the duke from becoming too rich and powerful, and that Buckingham simply had a personality of turning on whomever denied him what he wanted. This trait may have been the reason Edward IV had expelled him from the political loop eight years earlier. Another theory is that Buckingham was pressing his own claim to the throne. After all, he was directly descended from two of Edward III's sons, giving him a stronger claim then Tudor, the future Henry VII. Whatever the specifics of the situation may have been, Richard III was informed of Buckingham's rebellion before it even officially began (it did not help that the duke did not get anywhere near the amount of support he expected to), and the duke was arrested and attainted for treason. The king refused to see his former ally, and Buckingham was executed without trial the day after his capture. Although there were many innocent victims during the War of the Roses (and also during Richard III's tyranny), it is difficult to argue that Buckingham was not a man brought down by his own ambitions and greed. The evidence would later be supported when the duke's son and heir was executed for a similar crime in 1521.
Buckingham in Shakespeare
Appears in: Richard III
The Duke of Buckingham is, by far, the most loyal supporter of the Duke of Gloucester in Richard III, until Gloucester takes the throne. Richard III is so busy worrying about all the problems that he must deal with that he neglects Buckingham and denies him the lands and titles that were originally promised to him. As a result, Buckingham rebels against the king. The rebellion fails and Buckingham is captured and executed, after Richard refuses to see him one last time. He later appears as a ghost in the king's dream the night before the Battle of Bosworth Field, cursing Richard and wishing luck to the future Henry VII.

References
Davies, C. S. L. 'Stafford, Henry, second duke of Buckingham (1455–1483)', Oxford Dictionary of National Biography, Oxford University Press, 2004 [http://www.oxforddnb.com/view/article/26204, accessed 29 March 2010]