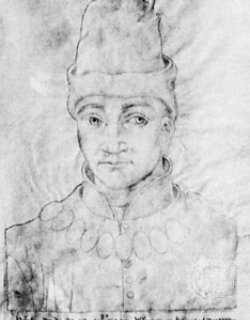 Humphrey, Duke of Gloucester
Born: October 3, 1390
Died: February 23, 1447
Bury St. Edmonds, Suffolk, England (Age 56)

Humphrey in History
Humphrey Plantagenet was the fourth and youngest son of Henry Bolingbroke, eldest son and heir of John of Gaunt, third surviving son of King Edward III. In 1399, Humphrey's father deposed King Richard II and crowned himself as King Henry IV. It is no surprise that, after their father's ascension to the throne, that the fortunes of Henry's four sons would rise rapidly. Humphrey himself was created a Knight of the Garter the year after Henry's ascension. During the remainder of his father's reign, however, Humphrey was not given as many responsibilities (particularly militaristic ones) as his elder brothers Henry, Thomas and John. It was not until after the death of his father in 1413 and the ascension of his eldest brother as King Henry V that Humphrey rose to any real power in the English government. He was created Duke of Gloucester and Earl of Pembroke in 1414 and began serving in military expeditions when Henry V renewed the Hundred Years War with France the following year. Humphrey took place in the siege of Harfleur and fought at the famous Battle of Agincourt, where he was wounded and supposedly rescued by the king himself. Over the remainder of his brother's relatively short reign Humphrey continued to serve as a military commander in France and was given several independent commands in the increasingly successful war for the English. Although his influence was certainly on the rise it appears that the king intentionally limited the power of his youngest brother as opposed to that of Thomas and John (who were by this point the Dukes of Clarence and Bedford respectively). When Henry V died in 1422 it was made unclear as to what his role would be in the regency council for the new King Henry VI, who was a mere nine months old at the time of his father's death. The late king's will had claimed that Humphrey was to be the tutor and protector of the infant king, which Humphrey took to mean protector of the realm of England. Although Humprhey would ultimately gain the title of protector, his powers were limited by his remaining brother Bedford (Thomas had died in 1421), who gained the title of Regent of France (which Henry VI became king of in addition to England when King Charles VI died several months after Henry V). Also of influence at the court of the infant king were two of Henry IV's Beaufort (John of Gaunt's offspring from his mistress and eventual third wife Katherine Swynford) half-brothers (and uncles of Humphrey) Thomas, Duke of Exeter, and Henry, Bishop (and ultimately Cardinal) of Winchester. Exeter died in 1426 but Cardinal Beaufort would go on to become Humphrey's most hated rival in the court of King Henry VI.
The following two decades saw the rivalry between Humphrey and Cardinal Beaufort become extremely heated. Humphrey was a huge advocate for continuing the war with France in order to keep the English in control in a land where they were becoming increasingly unpopular. Beaufort thought it would be better to form a peace with their long-time enemies across the channel. The friction in court between these two men would become so intense at times that Bedford was forced to return to England on several occasions to cool the tensions. Throughout the period of their rivalry Humphrey and the cardinal continuously switched in their positions of influence over the king. When one was up, the other was down. Humphrey would accuse the cardinal of everything from usury to attempts to mislead the king. Upon the death of Bedford in 1435 Humphrey became heir apparent to the so far childless Henry VI. This position did gain him a good amount of political power and his attacks on Cardinal Beaufort did force Humphrey's elderly uncle (he was well into his sixties by the beginning of the 1440s) into retirement, but Humphrey's influence was gradually waning. The king had reached his majority reign by this point (making it unnecessary for a protector) and the actions of of Humprhey's wife Elaenor, who in 1441 had been arrested and exiled for supposedly consulting astrologers as to when the king would perish and her husband would become king, ultimately forced Humphrey into early retirement. By this point William de la Pole, Earl of Suffolk, was the primary adviser to the king. Humphrey and Suffolk differed in opinion of several issues (the war in France being the main argument between the two) and this gave Suffolk fuel he needed to finally rid himself of Humphrey. In 1447 Suffolk had Humphrey arrested on (most likely) trumped up charges. While awaiting trial, Humphrey passed away at the age of fifty-six, most likely of a stroke. In the end, Humphrey's enemies got to see him expire. Although their triumphs over the former protector would be short-lived. Cardinal Beaufort would outlive his rival for only a few weeks before meeting his own end. Suffolk would remain influential at court for another three years before his political downfall, exile and mysterious death at sea on his way to France. Although far from perfect and at many times a difficult man to work with, Humphrey of Gloucester was a faithful servant to the crown until the day he died, a loyalty that lasted through the reigns of his father, brother and nephew. He also gained a great reputation as a patron of literature and the arts during his lifetime which was unprecedented at the time. Most historians treat Duke Humphrey in a very positive light, gaining him the name of the "Good Duke Humphrey." It is a shame that this seemingly loyal subject had to be tainted in the end with charges of treason.
Humphrey in Shakespeare
Appears in: Henry IV, Part 2; Henry V; Henry VI, Part 1; Henry VI, Part 2
Humphrey of Gloucester is first seen briefly in 2 Henry IV at his father's side during his last hours and with his brother, the new Henry V, at his coronation. He is also seen in Henry V as a faithful and loyal subject of his brother, supporting him in his wars against France. It is in the Henry VI plays that Humphrey takes on a more prominent role. Humphrey is protector of the realm for his nephew Henry VI and it is made blatantly clear in the first scene of 1 Henry VI that he and his uncle Beaufort, Bishop (and later cardinal) of Winchester are bitter enemies. Throughout the play the two men engage in several heated arguments before the king himself steps in to ease the tension. The two fain making peace to satisfy the other members of the court but it is obvious they still despise each other. In 2 Henry VI it is the goal of the cardinal and several others at court to rid themselves of Humphrey, who they feel is influencing the king in the wrong way. Gloucester's wife is arrested and exiled after she consults soothsayers as to when the king will die and her husband will become king and Humphrey is stripped of his protectorate and arrested for treason, despite his renouncing of his wife's actions. At this point, Cardinal Beaufort, Queen Margaret, Suffolk and the Duke of York conspire to murder Duke Humphrey to rid themselves of him once and for all. Ultimately, they are successful. Humphrey is smothered to death by two murderers under Suffolk's command. When the king and his court go to summon Humphrey to escort him to his trial they discover he has passed away. The king is grief stricken over his uncle's death and it is discovered by physical evidence from those present that the duke was indeed murdered. Soon after wards, the king is forced by a group of angry commons to exile Suffolk for his part in Humphrey's death and Cardinal Beaufort soon after died of grief due his part in the murder. Humphrey is portrayed by Shakespeare in a generally positive light and is made to look better by being murdered by his deceitful enemies. The murder is, of course, mainly of a fictitious nature. Although there were rumors in reality that Humphrey may have been rumored, there is nothing close to conclusive evidence that there was any foul play involved.

References
Harriss, G. L. 'Humphrey , duke of Gloucester (1390–1447)', Oxford Dictionary of National Biography, Oxford University Press, 2004 [http://www.oxforddnb.com/view/article/14155, accessed 6 Nov 2009]