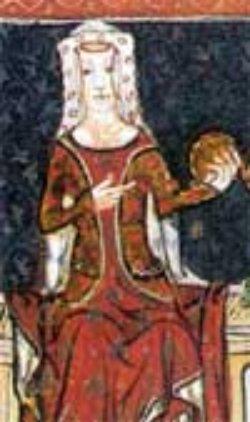 Joan of Kent
Born: September 29, 1328
Died: August 14, 1385
Wallingford, Oxfordshire, England (Age 56)

Joan in History
Joan of Kent was a member of the royal family and was therefore given a good upbringing. Her father was Edmund, Earl of Kent, youngest son of King Edward I and therefore brother to Edward II and uncle to Edward III. When Kent was executed (1330) Joan was given to the custody of Queen Philippa (Edward III's wife) and grew up primarily within her household, despite the fact that her mother, Margaret, was still alive. In 1340, when Joan was still only twelve, she was married to Sir Thomas Holland. However, when Holland went to fight in the wars, Joan's mother, who seemed to either not know about the marriage to Holland or to have felt it was invalid, had Joan married to William Montague, the future Earl of Salisbury. It was not until 1347 that Holland would petition against the earl for his rightful wife, and the pope, after many delays, finally agreed in Holland's favor in the issue; he and Joan would go on to have five children together.
Holland died while fighting in France (December 1360), and the following year, Joan was married to Edward the Black Prince, eldest son and heir to Edward III. Though the marriage was looked at with scorn by many, considering the close familial relationship between the two, the union seems to have been a happy one, and it was the first occasion when an heir to the English throne married an Englishwoman. Joan spent the years 1362-1371 in Aquitaine with her husband, who was acting prince of the region, and the couple's two children (Edward, who died as a young child, and the future Richard II) were born there. By the early 1370s, the Black Prince's health was in steady decline, and he died in 1376, leaving Joan a widow twice over. The following year, Edward III died, leaving Joan's ten-year-old son, Richard II, as King of England. Joan now found herself in a completely new role as mother to the king. She was certainly at the apex of her wealth, influence and popularity and held a great deal of influence over the young king. Her popularity is shown by the fact that, during the peasant's revolt (June 1381), Joan was spared a barbaric death when the rebels stormed the tower and executed the Archbishop of Canterbury and the royal treasurer. By this point though, Joan's health was in decline, and she was a mere shadow of the beautiful woman she once was. She died in August 1385 at the age of fifty-six.
Joan in Jack Straw
Joan of Kent appears in Jack Straw as the queen mother and is genuinely worried about her son's well-being when he is forced to deal with such a grave crisis at such a young age and constantly needs to be comforted by members of the court.
References
Barber, Richard. 'Joan, suo jure countess of Kent, and princess of Wales and of Aquitaine [called the Fair Maid of Kent] (c.1328–1385)', Oxford Dictionary of National Biography, online edn, Oxford University Press, Sept 2004 [http://www.oxforddnb.com/view/article/14823, accessed 16 June 2010]