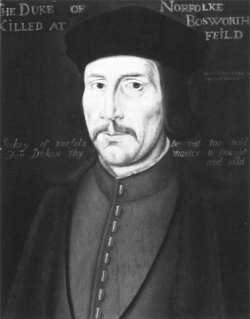 John Howard, 1st Duke of Norfolk
Born: c. 1425
Died: August 22, 1485
Bosworth, Leicestershire, England (Age c. 60)

Norfolk in History
One cannot be surprised that John Howard was a staunch supporter of the house of York when looking at his family history. Howard's maternal grandfather was Thomas Mowbray, 1st Duke of Nofolk, the man who had been exiled for his quarrel with Henry Bolingbroke and who died in Venice in 1399. His uncle, also named Thomas, was executed for treason by that very same Bolingbroke, who was, by that point, King Henry IV. Howard's other maternal uncle, John Mowbray, became a supporter of Henry IV's son, Henry V, and was ultimately restored the the dukedom of Norfolk in 1425 (during the early reign of Henry VI), right around the time Howard was born. Little is known of the early life of John Howard, but he was first married and started a family by the early 1440s and remained highly active in local politics in his native East Anglia. While serving under his cousin, also named John, Duke of Norfolk, Howard engaged in a quarrel with William de la Pole, Duke of Suffolk, a powerful magnate and a primary adviser to the king, who also had interests in East Anglia. This quarrel with Suffolk, a Lancastrian, is undoubtedly an issue that caused Howard to lean his loyalties towards the house of York.

During the mid-1450s, the quarrel known as the Wars of the Roses broke out between the houses of Lancaster (those loyal to Henry VI) and York (those loyal to the Duke of York) began, and Howard was undoubtedly a supporter of the latter house. He did not participate in any of the earlier conflicts but played a part at the Battle of Towton, when York's eldest son chased away the reigning Lancastrians and had himself crowned as King Edward IV (York himself had been killed in battle the previous year). Howard was heaped with rewards for his services and continued to serve the new king throughout the first portion of his reign, being awarded the title of Baron around 1469. In 1470, Edward IV was deposed by Warwick the "Kingmaker," who had put him on the throne in the first place, in favor of Henry VI. During the brief Lancastrian readeption, Howard was not treated unkindly or chased away as many other Yorkist supporters were and even attended the one Parliament summoned during Henry VI's second, short reign. This gives evidence that Howard was looked upon with respect and dignity by Lancastrians and Yorkists alike. When Edward IV returned from his exile to retrieve his throne in 1471, Howard took part in the Battle of Barnet, in which Warwick was killed, before Edward IV defeated the remaining Lancastrians at Tewksbury to take back the crown.
During the second portion of Edward IV's reign, Howard continued to be influential and continued to reap the benefits of royal favor, building up a sizable fortune for himself in the process. There was an issue, however, between Howard and the king after the death of the last Mowbray Duke of Norfolk in 1476. Mowbray had no male heirs (only a daughter, Anne), and Howard, as a maternal descendant of the first duke, had hoped to be rewarded with the dukedom. However, Edward married off Anne Mowbray to his younger son, Richard, Duke of York, who would then bear the title of Duke of Norfolk. Howard did not make any moves against Edward IV, but this conflict likely explains why, after the king's death in 1483, Howard threw his support behind Edward's brother, the Duke of Gloucester, in favor of the late king's two sons, who were subsequently bastardized, imprisoned and, most likely, murdered. Very soon after these events, Gloucester had himself crowned as King Richard III and created Howard Duke of Norfolk as a reward for his loyal support.

The new duke was now able to share, with his cousin Lord Berkeley, in the Mowbray estates in East Anglia, making him even richer and more powerful than he already was. For his shows of kindness, Norfolk remained loyal to Richard III, taking part in the suppression of the Duke of Buckingham's rebellion and being assigned to several important positions in the king's government. When Henry Tudor, the lone remaining Lancastrian claimant to the throne, invaded England in 1485 with intentions of pressing his claim, Norfolk was put in an extremely difficult position: Should he desert a man who had been so kind to him or stay on an obviously sinking ship and, most likely, meet his death? Norfolk ultimately chose the latter option, which once again shows that he had a noble character. The royal army met with Tudor's army at Bosworth and, after being deserted by the armies of the Earl of Northumberland and the Stanley brothers, was decisively defeated. Both Norfolk and Richard III himself were killed during the battle, which saw the crowning of the new King Henry VII. In the end, Norfolk chose to remain loyal to his king instead of deserting him for greener pastures. This was a characteristic that must be admired in a time when betrayal and double crossing were a way of life. Norfolk's son, who was captured and attainted after Bosworth, was finally allowed to inherit his father's dukedom in 1514.
Norfolk in Shakespeare
Appears in: Richard III
The Duke of Norfolk appears in Richard III as one of the few lords who remains completely loyal to the king, despite the imminent invasion of the Earl of Richmond. He subsequently fights for Richard III at the Battle of Bosworth Field and is listed amongst the casualties in the play's final scene.
References
Crawford, Anne. 'Howard, John, first duke of Norfolk (d. 1485)', Oxford Dictionary of National Biography, Oxford University Press, Sept 2004; online edn, Jan 2008 [http://www.oxforddnb.com/view/article/13921, accessed 6 April 2010]