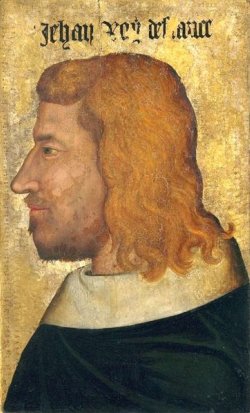 King John II of France
Born: April 26, 1319
Le Mans, Maine, France
Died: April 8, 1364
Westminster, London, England (Age 44)

John II in History
It was never expected that the future King John II would ever become king, considering King Philip IV (r. 1285-1314) had three sons, at least one of whom was expected to have male issue. Therefore, in his early life, John was not given any sort of upbringing to prepare him for kingship. He received a solid education but particularly excelled in martial activities, such as horse riding and weaponry. In 1328, however, John's life took an unexpected turn when the last of Philip IV's sons died, and his father, Philip VI, succeeded to the throne as the closest male relative of the royal family, becoming the first Valois monarch of the Capetian dynasty. The new royal family immediately moved to Paris, and at the age of nine, John was now heir to the throne of France. By 1332, John had married Bonne, daughter to the King of Bohemia, and the marriage is believed to have been a happy one, producing eight children, including the future Charles V in 1337. For the next several years, events within France remained relatively calm, but by 1337, war had erupted between France and England under the command of King Edward III. By the time the English landed in France, they had already won a major naval battle at Sluys and continued their dominance after arriving on the continent. Although John showed no lack of bravery or reluctance to fight alongside his men, he was nowhere close to the commander that Edward III and his captains were, and the French suffered heavy losses in men and territory. The war dragged on intermittently for the next ten years or so, and the French were most certainly on the losing side, suffering a huge defeat at Crecy in 1346.

To make matters worse, the Black Death was working its way through Europe, and both the English and French suffered major losses, with their respective populations being severely decimated. In 1350, Philip VI passed away and John succeeded as King John II. He ascended to the throne of a nation that was deeply in debt and ravaged by the plague. His lavish spending on banquets and tournaments (undoubtedly inherited from his equally extravagant father) and favoring of his close friends did not help matters along, and before long, the king made some powerful enemies within his own realm. Charles II of Navarre, a pretender to the throne and a distant cousin to the king, was the most powerful amongst them. After a number of years of backbiting and tensions between the two men, John II was finally able to outwit his enemy when Charles was turned in by the dauphin for supposedly attempting to depose the king. Navarre was promptly arrested and thrown in prison to rot. Despite achieving this significant victory, John II now had to deal with the problem of the English, who were once again on the verge of invading France.

After arriving, the English handed the king and his army a crushing defeat at the Battle of Poitiers, which saw the Black Prince subdue a French force that was five to six times the size of his own army. Thousands were killed and John II himself was taken prisoner. The French king was taken to London where he would remain a prisoner for four years, though he was treated with great respect as a king and member of the royal family should (John II was a maternal cousin of Edward III). Finally, in 1360, after much negotiating, a treaty was set up, and John II was ransomed, being allowed to return to France after the first installment was paid. Unfortunately, John found his country in bad shape when he returned and spent the final years of his life attempting to repair the ravages that war and plague had inflicted on the realm. In late 1363, Louis, Duke of Anjou, one of the king's sons who had been left as hostages in the English-controlled city of Calais as reassurance that the remainder of John's ransom would be paid, escaped from captivity. John II, the honorable man he was, turned himself in to the English king for this grave offense and returned to London, not to return until his full ransom was paid. However, in 1364, John became sick and suddenly passed away, shortly before his forty-fifth birthday. He was given a funeral fit for a king in England before his body was shipped back to France. Despite John's brave and honorable character, his reign was faced with far too many hardships, and in the end, it is hard to deny the fact that he was simply no match for a man such as Edward III.
John II in Shakespeare
Appears in: Edward III
John II of France appears throughout Edward III as the French king and primary rival of Edward III, despite the fact that, historically, he was not king until the latter events of the play. In the play's opening scene, it is told that, after the three sons of Philip IV all successively reigned, John II succeeded to the throne. In reality, it was John's father, Philip VI, who succeeded to the throne with John himself succeeding after his father's death in 1350. This appears to be one of the many cases in which Shakespeare creates a composite figure between two historical figures. At the time of earlier events of the plays, John was actually Duke of Normandy, a role that is given to his own son, the future Charles V, who succeeded as duke several years after the former became king. Within the play, John II is portrayed as a highly arrogant man, even after his army is brutally defeated on several occasions. This is no surprise considering the play is one big piece of English patriotism and is meant to champion Edward III and the Black Prince. The only historical accuracy involving John II seems to be his loss to the Black Prince at Poitiers, which resulted in his subsequent capture.

References
Potter, Philip J. Kings of the Seine: The French Rulers from Pippin III to Jacques Chirac. Baltimore: Publish America, 2005.