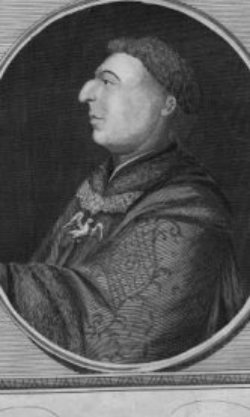 John of Lancaster, 1st Duke of Bedford
Born: June 20, 1389
Died: September 14, 1435
Rouen, France (Age 46)

John in History
John of Lancaster was born the third son of Henry Bolingbroke, eldest son and heir of John of Gaunt, third surviving son of King Edward III. He was brought up in highly eloquent fashion like his other brothers and was well educated. In 1399, his father deposed King Richard II and crowned himself as King Henry IV. After the Percies (the family that had played the biggest role in putting Henry on the throne) unsuccessfully rebelled against the king in 1403, John, along with many others, shared in the spoils they left behind and considerably increased his wealth. He continued to build up his influence and position in government throughout the remainder of his father's reign. When John's eldest brother Henry was crowned as Henry V in 1413, John was given a number of important responsibilities and was awarded several titles, most importantly, the Duchy of Bedford. The king renewed the Hundred Years War with France in 1415 and Bedford played a large part in the proceedings in support of his brother. He was given several important commands and also played a larger part in the day to day governing of England, even passing the death sentence on the Lollard rebel John Oldcastle. It was not until 1422, upon the premature death of the king, that Bedford became a true political colossus within both England and France. The throne was inherited by the nine-month-old infant son of the former king, Henry VI. Since the conditions of the Treaty of Troyes in 1420 had specified that Henry V would become King of France following the death of the French King Charles VI, it became clear that an infant would now be king of two kingdoms very soon. Two months after the death of Henry V, Charles VI passed away. Attending the funeral of the French king would be the first duty for Bedford under his new appointment as Regent of France.

As Regent of France, Bedford had the huge responsibility of not only keeping and maintaining the territories that his brother had conquered, but expanding English interests in France. Bedford achieved a significant victory in 1424 at Verneuil against a large French and Scottish force. Throughout the next several years, the English, under Bedford's command, made significant gains in conquering the remainder of France. By the late 1420's, however, the French, under the guidance of the new King Charles VII and a young girl named Joan of Arc, began to fight back furiously. In 1428, the French retook the city of Orleans, killing the English commander the Earl of Salisbury. The English continued to suffer major losses in the following years and Bedford quarreled insecently with both his brother Humphrey, Duke of Gloucester, and his Uncle Beaufort, Cardinal of Winchester in defending his losses in France. Although Bedford was able to maintain his brother's achievements in France for several years after his death, the situation was becoming impossible to maintain. The country was uniting behind their king and English allies in France were gradually deserting the English cause. Bedford, of course, was held responsible by many of his peers for the losses in France. He was able to defend himself successfully, but, by 1432, he was in decline. His wife died that year and, although he remarried the following year, he was clearly losing control of the situation in France. He died in 1435 at the age of forty-six at the siege of Rouen. Bedford was not as capable as his eldest brother Henry, but he was certainly an excellent commander and politician. He maintained his loyalty to his father, brother and nephew until the day he died. Unfortunately, he was left with such an impossible situation to deal with in France, but dealt with it to the best of his abilities. It is unlikely anyone else put in his station could have done any better.
John in Shakespeare
Appears in: Henry IV, Part 1; Henry IV, Part 2; Henry V; Henry VI, Part 1
Prince John first appears in 1 Henry IV where he fights for his father at the Battle of Shrewsbury. Historically, John was only fourteen at the time of the battle, but, considering that boys were put into battle at relatively young ages, it is possible that he may have at least been on the battlefield. In 2 Henry IV he is portrayed in a negative light when he dupes the Archbishop and Earl Marshal into dismissing their army, before arresting them for treason. In reality, it was the Earl of Westmorland who talked down the rebels. Bedford appears as a man who is completely loyal to his brother in Henry V and is a main figure in the government of his nephew Henry VI. As Regent of France, he returns to his area of responsibility in an attempt to subdue the rebellions there. He dies while sitting in a chair at Rouen, just after he hears the patriotic screams of his fellow countrymen. The last impression one is given of Bedford by Shakespeare is a fairly positive one: he is a loyal servant of the crown who gave his life for his king, cause and country.
References
Stratford, Jenny. 'John , duke of Bedford (1389–1435)', Oxford Dictionary of National Biography, Oxford University Press, Sept 2004; online edn, Oct 2007 [http://www.oxforddnb.com/view/article/14844, accessed 1 Nov 2009]