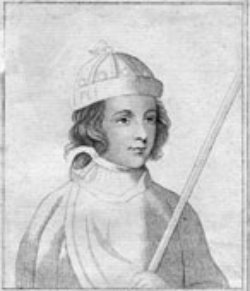 Edward of Westminster, Prince of Wales
Born: October 13, 1453
Westminster, London, England
Died: May 4, 1471
Tewkesbury, Gloucestershire, England (Age 17)

Edward in History
Prince Edward was the only child born to King Henry VI and his wife, Margaret of Anjou. Two major factors were deeply affecting England at the time of the prince's birth: The first issue was the mental health of King Henry. Henry VI's maternal grandfather, Charles VI of France, had suffered from a severe mental illness for a large part of his life, and it must be assumed that the king was suffering from the same illness. In addition, the court of King Henry VI, which had already seen its fair share of political tensions, was rapidly breaking down. The Duke of York was made protector while the king was recovering from his mental breakdown, and he would soon prove to be a powerful enemy to the Lancastrians (the house and followers of Henry VI). Henry did not fully recover his wits until around Christmas of 1454, over a year after the prince's birth, but was exceedingly happy to have a son and heir to continue the House of Lancaster. Prince Edward was raised primarily by his mother for the first years of his life, and there were a number of rumors spread that he was not the biological son of King Henry (these rumors were most likely completely false and created for strictly political reasons).

The years between 1455 and 1460 saw several significant battles between the Lancastrians and the Yorkists (those loyal to the Duke of York, who had a significant claim to the throne through his mother). At the Battle of Northampton (in 1460), the Yorkists won an important victory and captured Henry VI, forcing him to disinherit Prince Edward and make York his heir. This, however, did not last for long. Queen Margaret, an obstinate woman who would never see her son disgraced in this way, declared war against the Yorkists. The two forces met at Wakefield, and York, who perhaps reacted too hastily, was killed in battle. After York's death, the Yorkist cause was taken up by his eldest son Edward. In 1471, the Yorkists, with the help of the Earl of Warwick, deposed Henry VI, and Edward was proclaimed as King Edward IV. Henry VI, Queen Margaret and Prince Edward were forced to flee England with a small following of Lancastrian supporters.

The next ten years saw the group desperately attempting to gain aid from Scotland and France. Margaret and Edward escaped to the continent where they lived on the lands of Rene of Anjou, the queen's father, while the king was forced to wander from place to place within Scotland and northern England. Henry was captured by the Yorkists in 1465 and promptly imprisoned in the tower of London. In 1470, the Lancastrians would return to power in England. Edward IV had made a number of enemies as king, including his brother George and the powerful Earl of Warwick, the man who had put him on the throne. In addition, King Louis XI of France was offended that Edward had married a common woman, Elizabeth Grey, over his sister-in-law. Therefore, Margaret and Prince Edward formed an alliance with George, Warwick and Louis XI against Edward IV that saw the betrothal of Warwick's two daughters to George and the prince. Warwick deposed King Edward and placed Henry VI, who would spend the next six months as Warwick's personal marionet, back on the throne.

Margaret and the prince stalled their return to England (undoubtedly because they were nervous as to whether Warwick's puppet regime was stable enough to last) for months.When they finally decided to venture back to England, Edward IV had already returned and defeated Warwick's forces at Barnet, with the earl himself falling on the battlefield. Henry VI was recaptured and the forces of Margaret and Prince Edward were forced to do battle with those of Edward IV at Tewksbury. The battle was a decisive Yorkist victory which finally secured Edward IV's crown. It is most likely that Prince Edward died during the battle, but there are some chronicles that claim he was captured and murdered by the king and his brothers. Queen Margaret was captured and ultimately sent back to France, and Henry VI was soon after executed, effectively eliminating the House of Lancaster in the legitimate male line. Prince Edward spent a majority of his life in exile but proved to his contemporaries that he had the potential to be a brave warrior and a competent leader. Though many would agree he was nothing like his father, it is hard to disagree that he showed significant resemblances to his grandfather, Henry V, showing that the fruit sometimes does fall a bit farther from the tree. It is certainly a tragedy that the prince was never to see his eighteenth birthday.
Edward in Shakespeare
Appears in: Henry VI, Part 3; Richard III (as ghost)
Prince Edward is portrayed as a headstrong youth in 3 Henry VI who resembles his mother's personality much more than his father's (though he is certainly loyal to his father). He is upset when his father disinherits him in favor of York, sparking a battle between the two factions, resulting in York's death and Edward IV's eventual accession to the throne. Later, he is seen with his mother at the court of Louis XI in France, where Warwick, after announcing he has severed ties with Edward IV, gives his daughter Anne's hand in marriage to the prince to seal their alliance. In the end, Prince Edward and his mother are captured after the Battle of Tewksbury. After Edward continuously insults the Yorkists, King Edward and his brothers, George and Richard, all take turns in stabbing him to death in the presence of his, understandably, hysterical mother. He later appears as a ghost in Richard III, during a dream by King Richard, where he, along with a slew of others that Richard has killed, curses the usurping king. Shakespeare chooses to use the more dramatic rendition of Edward's death that can be seen in several of his sources, including Hall's chronicle. In reality, it is much more likely that the prince died during the battle itself.
References
Griffiths, R. A. 'Edward , prince of Wales (1453–1471)', Oxford Dictionary of National Biography, Oxford University Press, 2004 [http://www.oxforddnb.com/view/article/8524, accessed 7 Dec 2009]