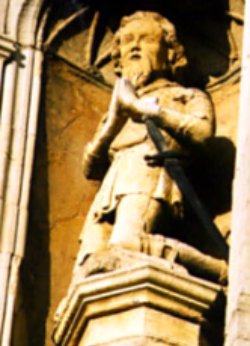 Sir Thomas Erpingham
Born: c. 1355
Died: 1428 (Age c. 73)

Erpingham in History
Thomas Erpingham began his long career as a teenager during the reign of Edward III, accompanying his father on several expeditions to France under Edward the Black Prince, eldest son and heir to the king. By the late 1370s Erpingham had become a loyal servant to the household of John of Gaunt, Duke of Lancaster (third surviving son of Edward III) and served his master during campaigns to Scotland and Spain in the 1380s. Erpingham would then associate himself with the household of Henry Bolingbroke, Gaunt's eldest son and heir, and accompanied him on crusade to Prussia and Lithuania in 1392-93. When Bolingbroke was exiled from England by King Richard II in 1398 for his quarrel with Thomas Mowbray, Duke of Norfolk, Erpingham accompanied him to France. The following year, Bolingbroke, with Erpingham at his side, returned to England when he knew the king would be away in Ireland and claimed he only wanted to retrieve his father's inheritance that Richard had seized to fund the Irish expedition. Soon it became apparent that Bolingbroke would depose Richard and have himself crowned king, and Erpingham played a big role in putting his master on the throne. Erpingham was greatly rewarded for his loyal service to the new King Henry IV. He was given a number of important posts and titles which included steward and chamberlain of the royal household, warden of the Cinque Ports and was created a Knight of the Garter.

During this time he was also given the charge of looking after the king's eldest son and heir Prince Hal. By 1409, the king's health was failing him and the prince took a more active role in government. The next several years saw a power struggle between the two, and the prince was temporarily dismissed from court. Since Erpingham now showed himself to be more of a supporter to Prince Hal, he found himself an outcast from court for the remainder of Henry IV's reign. The king and prince reconciled their differences by the time of the king's death, and Prince Hal succeeded his father to the throne in 1413. Erpingham was immediately brought back into royal favor upon the accession of Henry V and supported the new king in his renewal of the Hundred Years War with France, taking part in both the siege of Harfleur and the Battle of Agincourt in 1415. After these two significant victories for the English, Erpingham seems to have gradually isolated himself from the court and did not participate in any other campaigns to France during Henry V's reign. Though Erpingham took a continuously lesser role at the king's court, he had gained considerable influence in his native East Anglia throughout his life and seems to have remained fairly active in local politics there until his death, which came in 1428 as a man of over seventy. Thomas Erpingham was a loyal Lancastrian servant for his entire life and was duly rewarded for his services. He was lucky enough not to live to see the collapse of the dynasty during the reign of Henry VI.
Erpingham in Shakespeare
Appears in: Henry V
Sir Thomas Erpingham appears as a minor character in Henry V. He is looked at with great respect and admiration by both the king and the English soldiers. One is given the impression that Erpingham is a sort of elder statesman, an implication that is certainly justified considering he was a man of roughly sixty at the time of Agincourt and had been a veteran of numerous campaigns.
References
Walker, Simon. 'Erpingham, Sir Thomas (c.1355–1428)', Oxford Dictionary of National Biography, Oxford University Press, Sept 2004; online edn, Jan 2008 [http://www.oxforddnb.com/view/article/8842, accessed 16 Nov 2009]