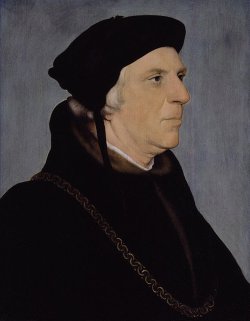 Sir William Butts
Born: c. 1485
Norwich, Norfolk, England

Died: November 22, 1545

Hammersmith and Fulham, London, England (Age c. 60)

Butts in History
Little is known of the early life of William Butts, and he does not appear to have made any sort of impact until he received his bachelor's, master's and medical degrees, respectively, from Cambridge. He married Margaret Bacon in 1516, and the marriage produced three sons and a daughter. By 1528, Butts was a primary physician in the royal household, treating Queens Anne Boleyn and Jane Seymour, Princess Mary and King Henry VIII himself, among other members of the nobility. In addition to his job as royal physician, Butts also seems to have been a supporter of the reformation and of men such as Cardinal Wolsey and Archbishop Cranmer. Butts was knighted in 1544 and died the following year as a man who had proven himself to be a loyal servant to the king and his household.
Butts in Shakespeare
Appears in: Henry VIII
Doctor Butts appears in only one scene of Henry VIII where he is seen informing the king of Archbishop Cranmer's demeaning treatment at the hands of the nobility. The king sees Cranmer is made to wait outside with common pages and messengers and goes to intervene himself.
References
Martin, C. T. 'Butts, Sir William (c.1485–1545)', rev. Rachel E. Davies, Oxford Dictionary of National Biography, Oxford University Press, 2004 [http://www.oxforddnb.com/view/article/4241, accessed 14 March 2010]